The most remarkable tourist attractions in Jaipur.
Jaipur is the capital city and one of the most alluring and hedonistic cities of Rajasthan. It is also known as the 'Pink City of India. Jaipur's vivid terracotta pink color is noticed on all its massive structures, resembling its stupendous hospitality. It has some fascinating and vibrant markets and places of perfection showcasing its cultural heritage and exempla. Jaipur also holding the most magnificent architectures of forts and palaces, backed by its symbolic stories of the past. A flawless blend of ancient and contemporary elements Jaipur, seen through its music, cuisine, art, and dance forms, provides tourists with an astounding and memorable experience during their visits and travel.
1. Hawa Mahal, Jaipur
Constructed in 1799 by Maharaja Sawai Pratap Singh, the 'Palace of Breeze', true to the city's aesthetic 'pink' color, is a royal palace standing tall at a height of 50 feet. Built from red and pink sandstone with a foot-thick wall, it is a 5-storied structure with 953 front-facing windows flaunting some phenomenal latticework that maintains wind streams blowing throughout the palace. Its interiors consist of pillared chambers, arches, and corridors, as well as patios and fountains embellishing the front of the first two floors and the center of the courtyard, respectively. The elements of the palace resemble a coalesce of Mughal, Islamic, and Rajput architectural finesse, exhibited through its uniqueness and elegance.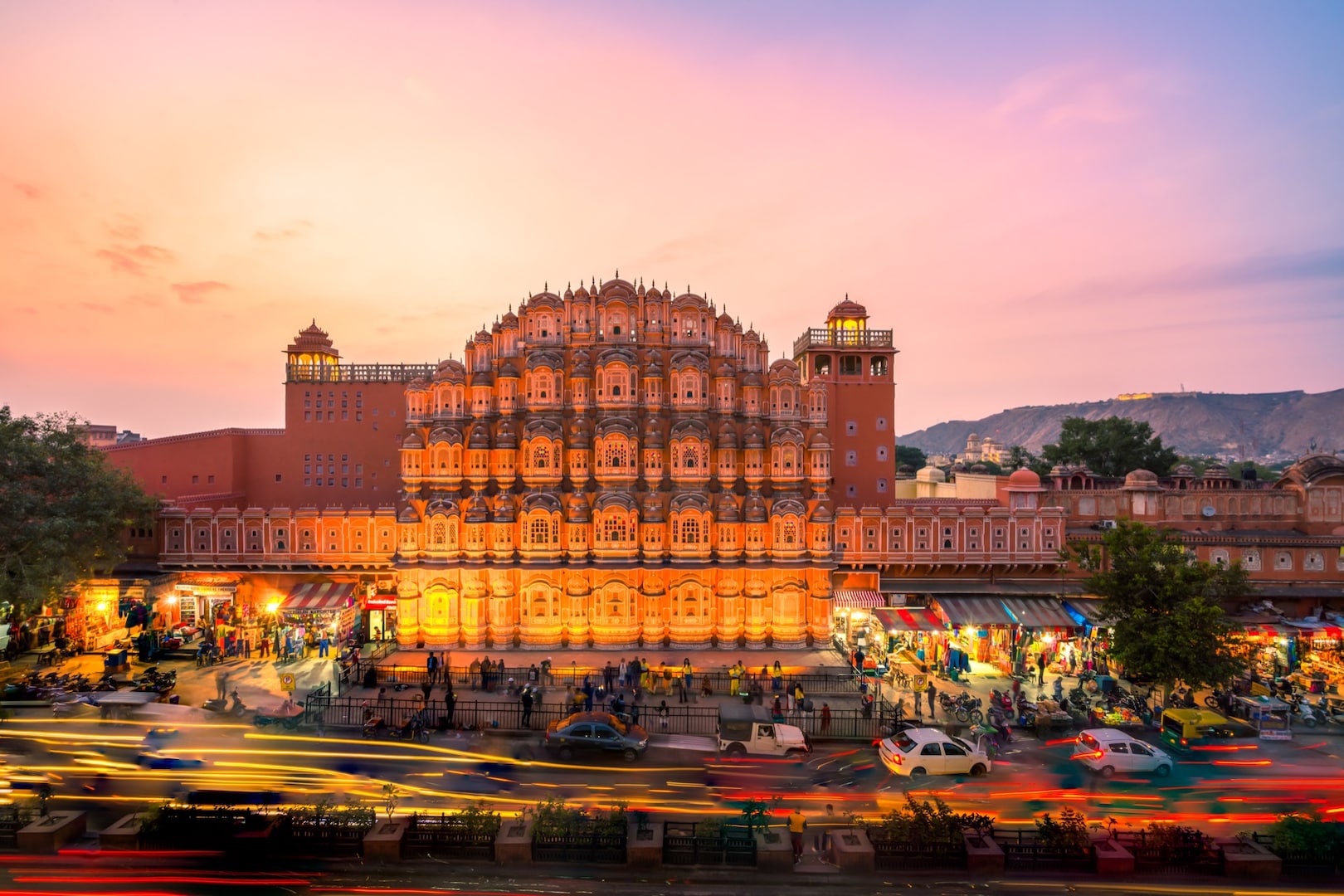 2. Amber Fort, Jaipur
Declared as a UNESCO World Heritage site; the fort cum palace is located in Amer, high up on the Aravali Hills, expressing a fusion of Rajput and Mughal architectural styles, made out of pale yellow-pink sandstone and white marble. It was built by Raja Man Singh in the late 16th century, the history and symbolism of which is portrayed through the light and sound show held within the palace. The magnificent structure is sectioned into 4 main parts, each with a separate entrance and enhanced with varied and sophisticated halls, gardens, floors, pillars, and courtyards; bringing about its distinction and splendor.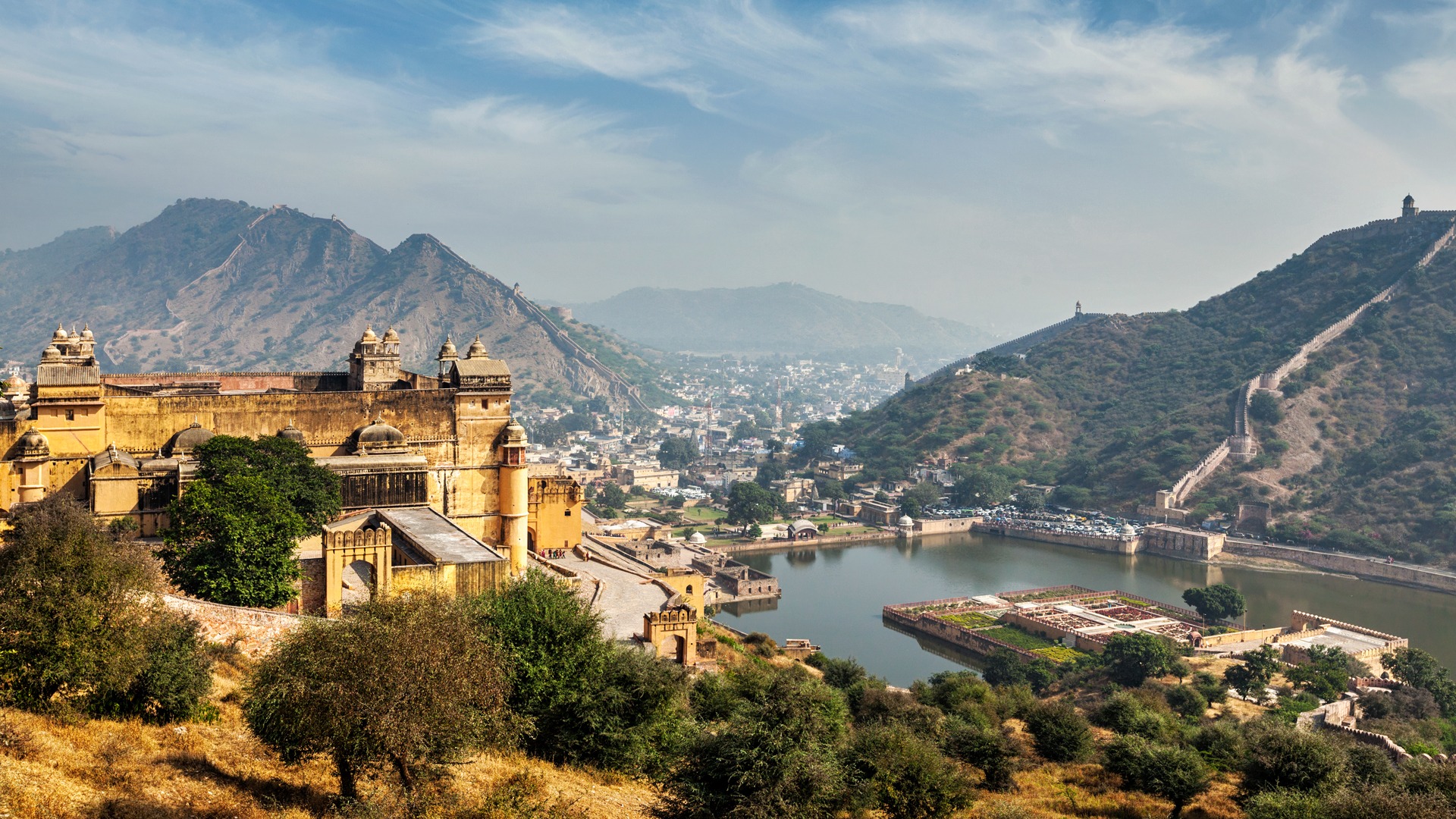 Must Read: Festival of Gujarat: Colors of Garba / Dandiya in Navratri
3. Jal Mahal
Also known as the 'Water Palace', located in Amer, the palace provides an illusion of being an elegant structure floating on the surface of the Man Sagar Lake, featuring the Rajput and Mughal architectural styles and forms. The 5-storied structure remains partially submerged underwater, giving you a glimpse of just its top-most storey with octagonal dome-shaped pillars or chhatris at the top; forming the terrace space, with its sweetest scented flowers. With its picturesque backdrops and views; it is considered to be an impressive and spectacular destination for photography lovers and bird-sighters while spending several hours appreciating its opulence and divinity.